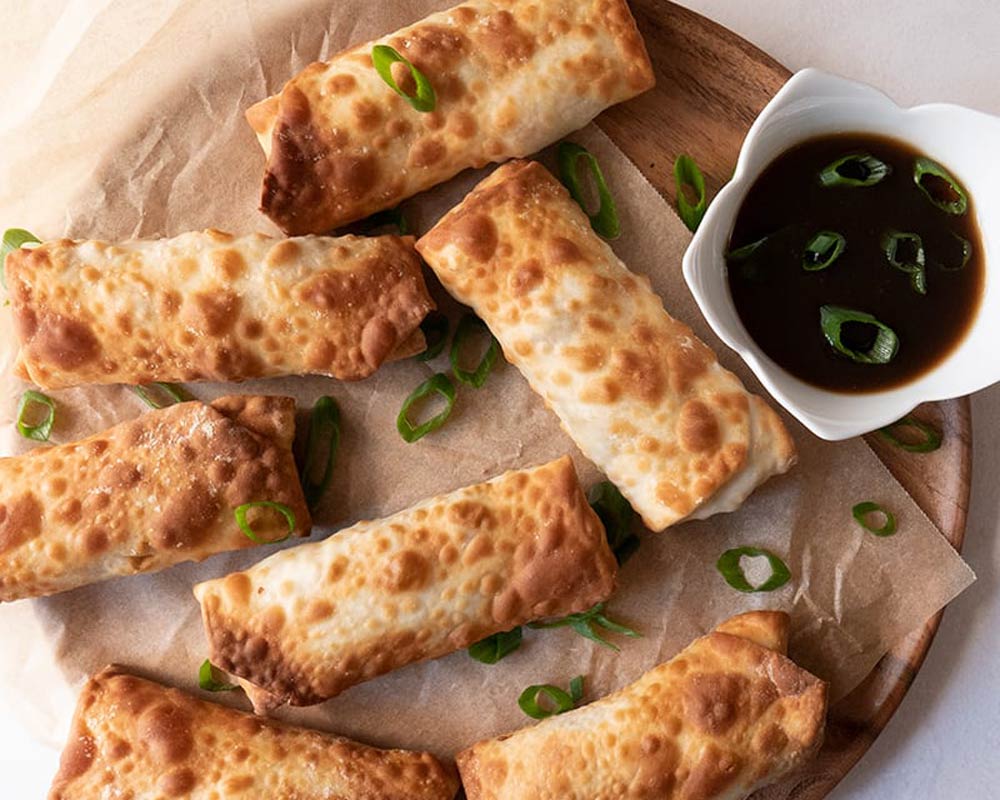 Get more recipes
Air Fryer Egg Rolls
1-2
PersonalPoints™ per serving
Total 35 min
Prep 15 min
Cook 20 min
Serves 8
Ingredients:
Cooking spray

6 spray(s)

Toasted sesame oil

1 tsp

Packaged coleslaw mix (shredded cabbage and carrots)

3½ cup(s)

Uncooked scallion(s)

⅓ cup(s), chopped, plus more for garnish

Garlic clove(s)

2 medium clove(s), minced

Uncooked 99% fat-free ground turkey breast

6 oz

Kosher salt

¼ tsp

White pepper

¼ tsp

Egg roll wrapper(s)

8 item(s)

Oyster sauce

3 Tbsp

Rice vinegar

2 Tbsp
Instructions:
Coat a large nonstick skillet with nonstick spray. Heat pan over medium-high heat. Add oil to pan, swirling to coat. Add coleslaw mix, scallions, and garlic; sauté just until cabbage starts to wilt, about 1 minute. Clear a space in the middle of the pan and add turkey; cook until turkey browns, stirring to crumble, 3 to 4 minutes. Stir in salt and pepper.
Place an egg roll wrapper on a flat work surface with the corners set vertically (pointing up and down like a diamond shape). Moisten all edges of wrapper with water. Spoon a slightly rounded ¼ cup of filling horizontally across the center of the wrapper. Fold the bottom corner of the wrapper to the center, over the filling. Fold in left and right sides of wrapper to seal edges, and roll up. Repeat with remaining wrappers and filling.
Coat air fryer basket with nonstick spray. Preheat air fryer, if necessary, to 400°F. Arrange 4 egg rolls in basket in a single layer, seam side down; coat tops of egg rolls with nonstick spray. Air-fry at 400°F until browned and crisp, 7 to 8 minutes, turning egg rolls over after 4 minutes. Remove egg rolls from air fryer; repeat with remaining egg rolls.
Meanwhile, in a small bowl, combine oyster sauce, vinegar, and 1 tbsp water. Serve sauce with egg rolls. Garnish with scallions, if desired.
Serving size: 1 egg roll and about 2 tsp sauce
Air fryer egg rolls
Weight Watchers
20 Minutes
15 Minutes
These 1-2 PersonalPoints air fryer egg rolls are crunchier than what you get from your favorite takeout restaurant
snack, appetizer
Get more recipes